Does your office use a lot of printer ink and toner?
R
ecycle them and help earn money for Yogie and Friends!
Inkjet and Toner Cartridge Recycling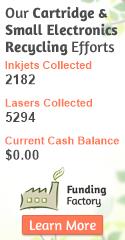 Drop off empty inkjet and toner cartridge locations:

Yogie and Friends c/o Paige Bass at the Beaird Tower
330 Marshall Street, 4th floor in downtown Shreveport.
You can bring cartridges with you when you visit the sanctuary, but
remember – we are only open Saturdays from April through October
---
Business Supporters: We need you! It's simple and FREE!
Here's how it works:  Stick our pre-paid shipping labels to boxes you already have in your office to ship your used printer cartridges and cell phones to our recycling program and we will receive credit towards our fundraising goals.  Help us reduce the consumption of fossil fuels and cardboard by reusing boxes!
Request labels  (or more information) by emailing Yogie and Friends Staff: Paige@PaigeBass.com
We earn a bonus for shipments of eight or more laser cartridges!
Please ship several cartridges in one box whenever possible!
What kinds of cartridges?

Our recycling program now pays at least ten cents for EVERY

 Cartridge! 


Drop off your old cellphones for recycling, too!
---
Do you have unwanted small electronics that are too valuable to recycle?
You can sell them (yes, you get money!) to the Max Back program and Yogie and Friends receive money too!
Max Back – Check it out!!
You sell your electronic gadgets using this link and we earn a little cash.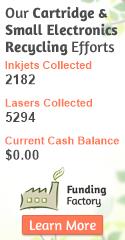 ::Our Recycling Fund Raiser Results ::

   2007 – 2009:  $419.00 
2010:  $690.89
               2011:  $1016.52
2012:  $  ?   How far will we go ?  With your help we can beat last year. 


With the 2010 recycling fund, we were able to buy a new chain saw and pay some bills at the sanctuary.  Thank you, everyone!!

Many thanks to the following continued supporters of the Yogie and Friends recycling program:

The Conneaut Public Library
Rocky River Public Library
Hummingbird and King, CPAs
JPD Energy
Smith and Company
National Pharmacy
Libbey, Inc.
Rountree & Guin
Whitelaw, Rice & Associates
AFS
---

Posted in How You Can Help